Online Payment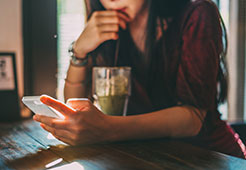 Shop online and pay with Octopus card or Octopus Wallet via Octopus App! It's safe and convenient!
No matter whether your mobile device uses Android or iOS, you can now download the Octopus App to pay online safely and conveniently using your Octopus card* or Octopus Wallet anywhere anytime.
Service Scope
Purchase MTR, bus and ferry monthly passes
Shop and pay at designated online merchants
Purchase and save e-tickets for specific merchants
Make bill payments at specific merchants and set a monthly reminder to avoid payment delays
Make payment of specific government bills or service fees
Make donations to specific charity organisations
Service Features
Pay with just one tap of your Octopus card to the NFC area of your mobile device or Octopus Mobile Reader*, or through direct deduction from your Octopus Wallet, Octopus Mobile SIM, Octopus on Apple Pay and Smart Octopus in Samsung Pay.
Every time an online payment is made, the purchase amount will only be deducted from the Octopus card, Octopus Wallet, Octopus Mobile SIM, Octopus on Apple Pay or Smart Octopus in Samsung Pay. You can check the transaction records instantly on the Octopus App (or the Samsung Pay app if you pay by Smart Octopus in Samsung Pay), offering you great protection.
Note:
*Making online payment by Octopus card is applicable for:
Android – NFC enabled mobile devices
iOS - iPhone 7 or newer with iOS 13 or above, or connected with Octopus Mobile Reader
Download the Octopus App to enjoy the convenience of Octopus Online Payment and check your latest Octopus transaction records.
You can also search and download from the Google Play and App Store!

Refund arrangement
Please contact the merchant directly to request a refund* of your ordered goods or services. Octopus Cards Limited, as a payment service provider, is not authorised to cancel or refund any order on behalf of the merchant.
Some merchants will give refunds via the Octopus App. If such a merchant has accepted your refund request, you will receive notification via the Octopus App, or you can check the status in the app directly. (The time to process a notification depends on merchants). For payments made by Octopus, tap your Octopus card to your device or Octopus Mobile Reader as normal to collect the refund, or visit an Octopus Service Point. Refunds for payments made with Octopus Wallet will be transferred directly to the user's Wallet.
If Octopus, Octopus Mobile SIM, Octopus on Apple Pay or Smart Octopus in Samsung Pay users fail to collect a refund within the collection period stated in the notification, the refund will be cancelled without further notice. You will have to contact the merchant directly to make further arrangements in that case.
View our Octopus Online Merchant
FAQ
If you are experiencing difficulties during the online payment process, view our FAQ to help resolve your problem.
Service Fee
Octopus Cards Limited is offering this service free of charge for customers, but some merchants may charge service fees or administration fees for their online shopping services. Before confirming your payment, please refer to the relevant information provided by the merchants.
References
The following documents are offered for your reference:
System Maintenance Schedule
Please click here to check the system maintenance schedule.