Your iPhone or Apple Watch is now your Octopus
If you have transferred the existing physical Octopus to iPhone or Apple Watch, the record of public transport expenses and uncollected subsidy of the physical Octopus will be transferred to the new Octopus on iPhone or Apple Watch. After successful transfer, you can collect the relevant subsidy with the new Octopus on iPhone or Apple Watch from the 16th of the following month.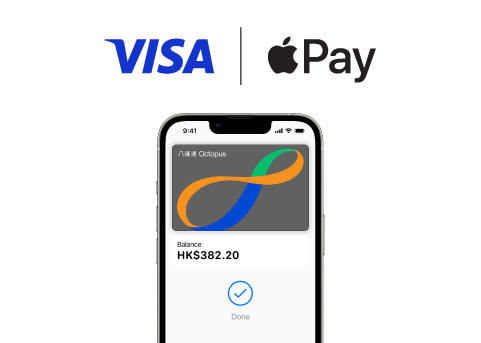 Add Octopus Card to iPhone and top up with Visa to earn up to $180 reward!
Octopus on iPhone or Apple Watch simplifies the way you ride transit and shop. Breeze through the turnstiles or pay at the retail outlets just by tapping your iPhone or Apple Watch to the Octopus reader. No need to open an app or wake your device. Check your balance and skip the queues by topping up using your favourite credit/debit/ATM card, or from your bank app without service fees.
Octopus is available in Adult and Elder types, requiring a refundable deposit of HK$50, and has a stored value limit of HK$3,000. You can use it on an iPhone 8 or above, or an Apple Watch Series 3 or above.
If you are a Citi Octopus Credit Card cardholder, you can now add Citi Octopus Card on iPhone using Octopus App, and enjoy the convenience of built-in Automatic Add Value Service and other benefits. Click here to learn more!