Tourist Octopus (Sold version)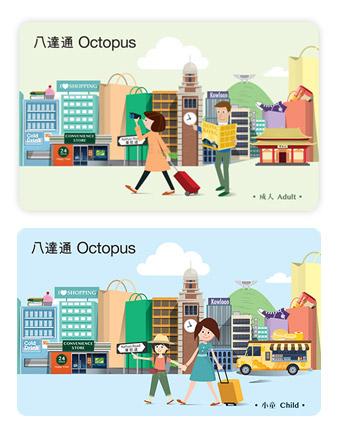 Tourist Octopus (Sold version)
Tourist Octopus (Sold version) is fun and easy to use, and is accepted all over Hong Kong! Use it for public transport, dining, entertainment, shopping and more. It is the easy way to get the most from your time in Hong Kong!




Card type: Adult
Priced at

HK$39

without initial stored value and no deposit is required
Remaining value can be refunded but the Octopus will be deactivated
Keep it as a souvenir
You can reload your Tourist Octopus with cash anytime at thousands of locations, from transportation providers to retailers.
Available at:
Store
Store Locator
Price
All stores
Store Locator

HK$39

without any initial stored value included
All stores
Store Locator

HK$39 plus an initial stored value of HK$10, total selling price is

HK$49

HK$39 plus an initial stored value of HK$50, total selling price is

HK$89

All stores
Store Locator

HK$39

without any initial stored value included
MTR Ticket & Octopus Selling Machine:

Airport Station (Hong Kong International Airport)
Hong Kong West Kowloon Station

HK$39 plus an initial stored value of HK$111, total selling price is

HK$150

Arrivals Pre-Immigration, L5, Terminal 1, Hong Kong International Airport (Restricted Area)
HK$39 plus an initial stored value of HK$100, total selling price is

HK$139

B2-7, Hong Kong West Kowloon Station

HK$39 plus an initial stored value of HK$10, total selling price is

HK$49

HK$39 plus an initial stored value of HK$50, total selling price is

HK$89

Buy Online