Citi Octopus Credit Card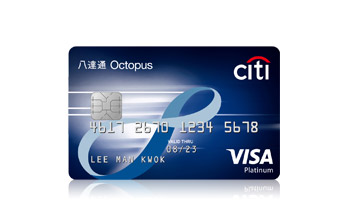 Citi Octopus
Platinum Card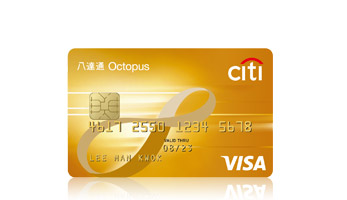 Citi Octopus
Gold Card
Apply now and enjoy HK$200 Cash Rebate!
The offer is not applicable to existing Citibank Credit Cardholders. Terms and Conditions apply.
Please visit Citibank's website for details and application.
2 cards in 1
The Citi Octopus Credit Card is Hong Kong's first bank-issued credit card with Octopus capability. Acting as both a credit card and Octopus, it allows you to shop and travel all over Hong Kong.
Built-in AAVS
When your Octopus balance reaches a zero or negative balance, your built-in Automatic Add Value Service (AAVS) will automatically reload HK$500 or HK$250 the next time you "dood". Reloading couldn't be easier!
Octopus Rewards
Membership in Octopus Rewards is automatic when you sign up for your card. You can earn and redeem Reward$ for any purchase at Octopus Rewards partner outlets. Enjoy exclusive hot offers and multiple Reward$ offered from time to time.
First year annual fee waiver
Enjoy first year annual fee waiver!
Convenient lost card reporting service
One simple phone call to 24-Hour CitiPhone Banking on 2860 0333 to report a lost card.
Reloading made easy
You never need worry about your Octopus running out of value! With the Automatic Add Value Service, your Octopus reloads automatically when you reach a zero or negative balance.