Add to Google Pay™
Octopus Mastercard® can be used with Google Pay™
Easily and securely pay in-store or online
Shop securely in-store
When you use your phone to pay in-store, Google doesn't send your actual card number with your payment. Instead, a virtual account number is used to represent your account information – so your card details stay safe.
Peace of mind
Protect your accounts, even if you lose your device.
If your mobile device is lost or stolen, you can lock or erase your card using the Android Device Manager.
Add Octopus Mastercard to Google Pay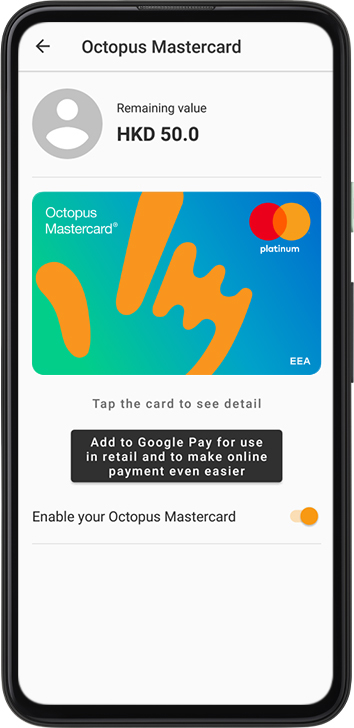 Download latest version of Octopus App, open it and follow the simple steps to add your card:
Step 1
Tap "Octopus Mastercard" in main menu, and click "Add to Google Pay for use in retail and to make online payment even easier".
Step 2
Read and accept Terms and Conditions, and enter your mobile number and address*.
Step 3
Receive an SMS and enter the verification code.
* Google Pay require customers to input their address while adding the card. However, your address will not be transferred to us.
Easily pay with Google Pay
In-Store


Turn on the screen of your Android device and tap to a contactless payment terminal with Google Pay symbol.
In-App


Tap this button to make an in-app purchase.
Google Pay supports Android version with Lollipop 5.0 device or above.
For details of compatible Google Pay devices, please refer www.support.google.com/googlepay.
Google Pay, Google Play and the Google Play logo are trademarks of Google Inc.