Pokémon 3D Octopus Ornament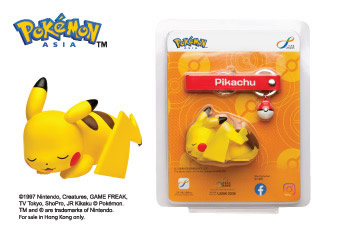 Pokémon 3D Octopus Ornament – Pikachu
Ornament dimension (cm):
approx. 4.5 (H) x 6.2 (W) x 4 (D)

Keychain total length (cm):
approx. 14 (L)

Available type: Adult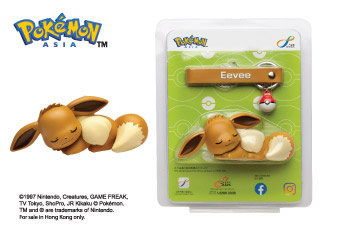 Pokémon 3D Octopus Ornament – Eevee
Ornament dimension (cm):
approx. 3.8 (H) x 10.2 (W) x 4.4 (D)

Keychain total length (cm):
approx. 14 (L)

Available type: Adult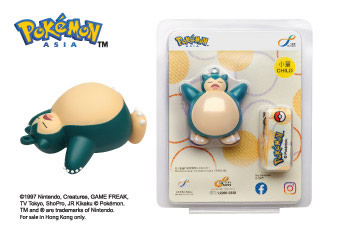 Pokémon 3D Octopus Ornament – Snorlax
Ornament dimension (cm):
approx. 6.6 (H) x 5.6 (W) x 3.1 (D)

Lanyard total length (cm):
approx. 48 (L)

Available type: Child

We are adding a new series of Pokémon 3D Octopus Ornaments to our collection! With sleepy eyes and a relaxing pose, these Pokémon characters – Pikachu, Eevee and Snorlax are ready to chill out with you in this summer! The Adult versions come with a keychain printed with their names and Pokéball charm, while the Child version comes complete with a lovely lanyard for easy carrying. Don't miss this chance to add your favourite Pokémon to your collection!
Pokémon 3D Octopus Ornament can save the last 40 transaction records, which can be checked by using the Octopus App.

HK$188
On sale from 28 July 2021
Available at:
Octopus App (Octopus Wallet customers can pre-order during 10 am, 19 July 2021 to 5 pm, 23 July 2021 and enjoy free postage. Products will be delivered by Hongkong Post from 5 August 2021 onwards. Each Octopus Wallet is limited to one piece per design)
(On sale from 7am, 28 July 2021)
Notes

Prices do not include deposit or stored value.
Available type: Adult & Child

Terms & Conditions

This Octopus is designated as a "Sold Octopus" and is issued subject to the "Conditions of Issue of Octopus".
This Octopus functions as a normal Adult / Child Octopus.
This Octopus has no initial stored value, please add value before using.
This Octopus has no deposit and is non-returnable.
If the value on your Octopus is zero or negative, it cannot be used until it is reloaded.
The Octopus function of this Octopus is covered by warranty from Octopus Cards Limited for a period of 30 days from the date of purchase. The warranty is not applicable to Octopus that have been damaged or tampered with, such as bending, writing on, scratching, cutting, or pasting stickers, photos or accessories on it. Please retain original sales receipt for warranty service.
Except as provided in paragraph 6 above, OCL shall have no obligation to replace this Octopus (whether defective or not).
This Octopus has a validity period of 7 years from the year of manufacture printed on the packaging and thereafter OCL may at its discretion extend the validity period or announce a date on which the Octopus function shall be disabled without compensation.

Useful Tips

Holders may add value to their Octopus at all Octopus Authorized Add Value Service Providers (except Add Value Service Machines) with cash up to a maximum of HK$3,000. Please remove the packaging before adding value.
Place your Octopus steadily over an Octopus reader, hold and wait until you hear a "Dood" sound and there is an indication that the transaction is completed and the remaining value is shown on the screen before removing your Octopus. If the transaction is incomplete because you hold your Octopus too quickly over a reader, please present it over the reader again.
Holders may use this Octopus to apply for the Octopus Automatic Add Value Service. Please visit www.octopus.com.hk/aavs or call the application hotline 2266 2338 for details.
Please record your Octopus number for future reference. If the Octopus number cannot be identified, Octopus Cards Limited may not be able to refund the remaining stored value on the Octopus.
Do not hold more than one Octopus, or an Octopus with another contactless smartcard, over an Octopus reader at the one time.
Do not tamper with your Octopus, such as bending, writing on, scratching, cutting, or pasting stickers, photos or accessories on it, otherwise, transactions will be not honoured and remaining stored value will not be refunded.