Enjoy 15% KMB, LWB, CTB and NWFB Fare Rebate with Citi Octopus Platinum Card!
Register at citibank.com.hk/octopus and make credit card retail spending of HK$1,500 per month with Citi Octopus Platinum Card to enjoy the offer. You can also enjoy extra HK$1 Octopus Cash Rebate for every HK$200 spending.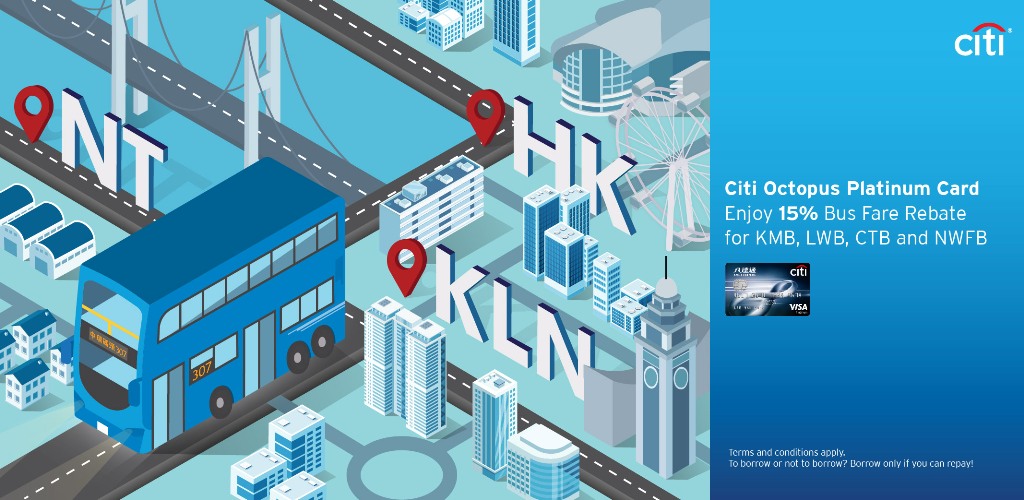 Terms and conditions:
The promotion period of 15% KMB, LWB, CTB and NWFB Fare Rebate is valid from January 1, 2019 to December 31, 2019, both dates inclusive ("Promotion Period"). The Promotion Period is based on transaction date.
This promotion applies to the Cardholders of Citi Octopus Platinum Credit Card ("Cardholders") issued by Citibank (Hong Kong) Limited ("Citibank") ("Designated Credit Card"). This Promotion shall supersede Citibank's "15% KMB and LWB Bus Rebate Promotion" as from and including January 1, 2019.
Cardholders are required to register ONCE successfully by entering the Principal Designated Credit Card number and confirming all terms and conditions listed on the Designated Registration Page (www.citibank.com.hk/octopus) within the Promotion Period ("Registration") to be eligible for this promotion. Upon registration, all supplementary cards under the Cardholder will be automatically registered. Notwithstanding the foregoing, Cardholders who have previously successfully registered under the "15% KMB and LWB Bus Rebate Promotion" will be automatically registered for this Promotion.
The Rebate is an Octopus Cash Rebate which will offset Octopus Automatic Add Value Transactions. Maximum HK$300 Rebate per month.
The Promotion is not applicable to ticket purchases for Bus Payments made at (a) ticket office of New World First Ferry Services located at Central Pier 5 and 6, or (b) 7-Eleven convenience stores.
Eligible Transactions include all local and overseas posted retail transactions, monthly installments of newly billed interest free installment plan that are also posted during the Promotion Period and cash advances made in Hong Kong Dollars, Renminbi, Macau Patacas and overseas in foreign currencies.
Ineligible transactions include, but are not limited to, "Dynamic Currency Conversion transactions", i.e. transactions with conversion from a foreign currency into Hong Kong Dollars involved at the point of the transaction; Octopus Automatic Add Value Service transactions ; withdrawal amount/loan amount under the Balance Transfer Program, Cash Conversion Program, Flexi-Installment Program and/or Quick Cash Installment Program; payment to the Inland Revenue Department; bill payment; utilities payment; auto payment; mutual funds payment; fees and charges; insurance transactions; casino transactions; transactions through Faster Payment System (FPS) Service; unposted, cancelled and refunded transactions; and other unauthorized, fraud and abuse transactions.
Other terms and conditions apply. For program details and other terms and conditions, please refer to the 15% KMB, LWB, CTB and NWFB Bus Rebate Promotion and Citi Octopus Credit Card Octopus Cash Program Terms & Conditions on Citibank website (www.citibank.com.hk/octopus).